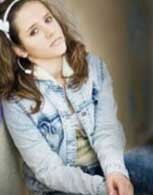 Judy
Judy had a big night out at the Pier Hotel. She went back to Jason's place and had condomless sex. Her friends told her about getting a check-up. She went to the clinic and had a swab test for chlamydia and gonorrhoea, and a blood test for syphilis and HIV.
You called her and advised that her test was positive for chlamydia and needs to come into the clinic for treatment and to talk about partner notification.
You advise her to avoid sex for seven days after treatment. You also advise that her partner needs to be tested and treated, and she should avoid sex with her partner for seven days after her partner's treatment. Safer sex, risk taking behaviours, the importance of condom use and follow up testing was discussed with her.
You also talk about the need for contact tracing and the options. Jason was the only sexual partner Judy has had in the past month. She also had sexual contact with an ex-boyfriend, Alan, five months ago.
Judy decides that she would like you to contact trace and gives you Jason's name, phone number and address, and (she gives you) Alan's address (he does not have a phone).
You decide to make the initial contact with Jason by phone and then visit Alan in person.